MATHESON, Kenneth Murdoch 35831
A farrier in civilian life, he joined the New Zealand Mounted Rifles (NZMR) in October 1916 and departed New Zealand April 1917.  He served in Egypt and Palestine as a 'shoeing smith', and was killed in action by gunfire on 14 November 1917.  This was at the famous battle at Ayun Kara when the  New Zealanders, part of the Anzac Mounted Division, conducted a daring and successful raid on heavily-entrenched Turkish defences.  As one account puts it: "This successful rout of the enemy is remembered for its daring frontal rush by mounted troops and tactical movements in support by the brigade's riflemen and machine gunners."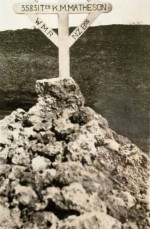 Kenneth Matheson was buried in a carefully-described location at Ayun Kara, where a memorial was erected.  NZMR troopers and members of the local Jewish community attended a memorial service on the first anniversary of the battle.  A short time after this service the Imperial War Graves Commission (later the Commonwealth War Graves Commission) moved the men from the battlefield and re-interned them at the Ramleh Cemetery.  The memorial site of Ayun Kara was forgotten and years later no one was sure of where the actual site had been, as the memorial obelisk had disappeared.
Sources:
Army personnel file, Archives New Zealand.
New Zealand Mounted Rifles: the action at Ayun Kara.
Photograph of the grave taken by Robert Bernard Croke of the Wellington Mounted Rifles, and made available by his granddaughter Hilary Croke.