It's less than one kilometre long, and branches off the main road in the tiny Southland settlement of Waikaka.  It carries the name of our clan, and honours just one pioneer family who lived there in the 19th and 20th centuries.  But digging into the story of this Matheson Road is an insight into New Zealand's pioneering history, and the impact of war.
Allister Evans' Waikaka saga, a local history published in 1962, profiles the Scottish immigrants who founded this family — Angus Matheson from Skye and Margaret Burnett from Lochbroom in Rossshire.
Margaret had emigrated at the age of nine with her parents and three sisters, arriving at Bluff from Glasgow on the Helenslee on 25 September 1863. She later worked as a nursemaid on a Southland run, and it was here she met Angus.
Angus had emigrated on his own in the 1870s and worked on the Waikaka run as a shepherd.  Evans recounts the story of Angus one day shepherding on the run where Margaret (Maggie on the shipping register) was working.  "He was using his binoculars the day she arrived and happened to train them on her.  He said to his mate 'Who's that — she's the girl I'll marry'.  And he did.  She was a very good-looking girl, with beautiful brown hair, blue eyes and fair complexion".
They married in Wyndham, where Margaret's family lived, and rode on horseback to start their life together at Waikaka.  There Angus set up the first butcher's shop, and later went back to shepherding before buying a farm.
Evans also recounts the couple's social life: "Mr and Mrs Matheson often rode to Waikaia from Waikaka [more than 30 km] to go to dances.  They took their two children with them on their horses.  The children were put to bed in the dressing room while the parents danced all night.  At daylight they would ride back to Waikaka, bringing their children with them, and carry on with their daily work without any sleep".
In time Angus and Margaret had six sons.
Walter Murdoch Matheson (c. 1873 – 11 August 1940) farmed at Waikaka.  In 1899 or 1900 he married Annie Jane McKay (1880–1944).  Both are buried at Waikaka, with "wee Nan Turnbull (stillborn)".  Presumably this is a daughter Nan Turnbull Matheson.  Some stillborn children were name, but stillbirths were not required to be registered until 1912.  Apart from wee Nan they had three children (and possibly others, as online records go up only to 1920):
Margaret McDougall Matheson (1900–18 April 1976).  In 1924 she married Leslie Charles Turnbull (1899–1977) and they had two daughters.  One, Lorna May Turnbull, married Roy Norton McIntyre and had a family.  Lorna and Roy are buried in Waikaka cemetery.  It's worth noting that Matheson Road at Waikaka leads into Turnbull Road, so it's possible the families were neighbours.  How this family might relate to the use of Turnbull in the name of stillborn Nan Turnbull [Matheson] isn't clear.
(Annie) Doreen Matheson born 14 June 1916.  In 1941 she married John Hancock Scott, though they divorced in 1963 and she later married Owen Davies Clarke.
Walter Hugh Alexander Matheson (c. 1918 – 11 January 1994).  Walter served in WW2 in army signals, and in 1944 married Joy Thelma Horrell.  Both are buried in buried in Invercargill Eastern Cemetery, and Walter is commemorated on the Waikaka war memorial. 
Returning to the children of Angus and Margaret:
Neil Alexander Matheson was born in 1875 and died aged only 20 days.
George Burnett Matheson (1876–10 May 1943)  Born in Waikaka, didn't marry, was a farmer and lived in Invercargill at the time of his death.  He is buried in Waikaka cemetery with his parents.
Angus Neil Matheson (1878 – 1 May 1958), known as Neil perhaps in memory of his dead elder brother.  He also doesn't seem to have married.  The story of his WW1 service is told on our website.  He is buried in Waikaka cemetery and commemorated on the Waikaka war memorial.
Archibald McArthur Matheson (1882–16 December 1926) married Catherine Elizabeth Cockroft (c. 1890–20 May 1955) in 1912 and they had at least seven children.  They lived in Invercargill and Archie worked as a trainer, presumably of horses.
Angus Adin Matheson (11 June 1913–19 February 1973).  In his will he was described as a salesman, and lived in Gore.  He married Catherine Rubina Thomas in 1941 but the couple divorced in 1971.  He is buried in Gore cemetery where on his tombstone his Christian names are reversed, but in the will of his father he is named as above.
Annie Margaret Bessie Matheson (born Gore October 1914).  Married Andrew Crawford.  Died 24 June 1993, and buried at Ruru Lawn Cemetery in Christchurch.
John Archibald George Matheson (c. 1915–1945), who like his father was known as Archie.  As Private 17415 in the New Zealand Army, he died as a prisoner of war in Germany on 9 February 1945.  His story is told on our website.
Emily Ellen Jean Matheson (c. 1917–18 August 1924).
Muriel Heather Matheson (9 July 1919 – 27 January 2004).  In 1946 she married Frank (Francis Edward Charles) Maxted, and the couple are buried in Invercargill Eastern Cemetery.
Linda Isobel Matheson (born about 1920).
Lesley Ferne Matheson (born about 1924).  Married (Colin) Lester Diack, who died 27 February 1983 at Invercargill, aged about 58, and is buried in Invercargill East cemetery.  Nurseryman at the time of his death (aged 58).  Children Amanda and Andrée.  Marriage some time around 1960 +/- 3 yr.  Diack's Nurseries is still a well-known business in Invercargill, and it seems that Lesley married a son of the founder, who was also Colin Diack.
Archie Senior died in his early 40s, when he was working as a trainer (presumably of horses).  The youngest of his six children was then less than two and his eldest only 13, so the family must have gone through some hard times.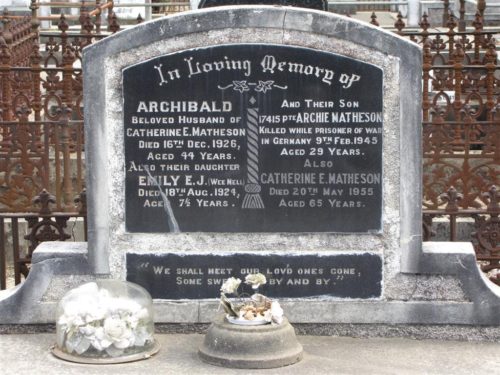 Archie Senior died in his early 40s, when he was working as a trainer (presumably of horses).  The youngest of his six children was then less than two and his eldest only 13, so the family must have gone through some hard times.
Archibald snr, Catherine, Emily and Muriel are buried in Invercargill Eastern Cemetery, and Archie jnr is commemorated there.
Hugh Alexander Matheson (12 July 1886 – 8 August 1944) born Waikaka.  Also served in WW1, Service No 32868 and was awarded the Military Medal for gallantry in the field.  His WW1 service is profiled on our website.  Hugh married Margaret Fowler (c. 1890 – 3 July 1950) in 1922, and it's not known whether they had any children.  They lived at Nightcaps in Southland where he worked in mining, and they are buried in the Wairio cemetery.  Hugh is commemorated on the Waikaka war memorial.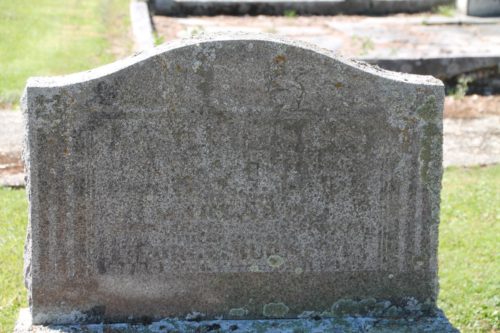 The parents of these six children are both buried in Waikaka cemetery, the headstone having faded over time.  Angus was born in Scotland in about 1843 and died on 16 January 1908.  Margaret was born in 1854 and died on 3 November 1928. 
We haven't yet found a photo of Angus, but Margaret is almost certainly the elderly "Mrs Matheson" who appears in a portrait of members of the Waikaka branch of the Lady Liverpool League — a patriotic organisation that provided support for soldiers in the First World War (middle row, third from left).
The section on our website documenting places in New Zealand named after Matheson's is continuing to grow, as members contribute material.  As with any family history, it's the stories behind the facts and figures that carry interest and preserve the memories of our forebears. 
We'd love to hear more about the people behind the Matheson place names in New Zealand.  If anyone reading is related to this Matheson family, we are keen to hear more of the family's stories.
by Andrew Matheson and Zelda Matheson